The renowned Hay Day video game by Supercell is without a doubt among the top agricultural games. As your uncle can no longer work on the farm games, you are given the responsibility of managing it in this game. You will cultivate crops, raise animals, and decorate the property as the new farm manager. There are several games, nevertheless, that may provide you with the same experience as Hay Day!
Many gamers across the globe, including presumably you, have been hooked on this game for years because to its fairly simple gameplay and constant new releases. However, there are times when you want to seek for something more thrilling and vary the pace for a moment. So use this list to your advantage as you search for the finest Hay Day substitute.
1. TOWNSHIP
Playrix's Township is the best game on our list of games like Hay Day. In this farming simulation game, your job is to build and run a farm and city using your best skills. The Townspeople must be happy and have everything they need for you to know you're on the right track.
When you play Township, your main job is to run your farm, which is the town's main source of food and resources. You'll plant many crops, feed cows, and do other things, just like in Hay Day. On the other hand, your town will be in charge of the money, which will help you build more things to help it grow.
2. FARMVILLE 2 COUNTRY ESCAPE
Farmville 2 Country Escape by Zynga is one of the best games like Hay Day. In this simple game, you'll leave the busy city and move to a peaceful place in the country. You will be living in a simple home on a farm. You'll be in charge of growing veggies and crops and raising animals, just like in Hay Day. You must also come up with some recipes and change your farm to make it look better.
Besides doing jobs related to Hay Day, you'll be able to follow an interesting plot with Marie. She has known your grandparents for a long time and will teach you how to play the game. You won't just build and run your farm in Farmville 2. But you also have to fix up the farm and make it look nice again.
3. WESTBOUND:PERILS RANCH
If you're looking for a farming game that will take you into a fun wild west adventure, then you must check out Westbound:Perils Ranch. In this game, you'll build your own western town with charming ranches and more. You'll also be exploring some canyons and fulfilling some quests to progress in the game.
In Westbound, you'll build many structures to establish your town. Also, it would help if you plant some crops and trees to generate food. You will also need to craft some items to decorate your town. Take note that building your western town is not easy as everything takes time. So the bigger structure you build, the longer it will take.
4. FAMILY ISLAND
Another title that's included in our best Games Like Hay Day list is Family Island by Melsoft Games Ltd. In this farming game, you'll play with your family and create your new life on the island. Everything will be built from scratch. You need to get the necessary materials, eliminate obstructions, and build some structures.
In Family Island, you'll also build and manage your own farm to sustain your family's survival. You can also cook various meals, but you must first create your cooking area by acquiring the necessary materials. As your game progresses, you need to unlock more functions by upgrading your buildings and making your island a thriving one.
5. FAMILY FARM ADVENTURE
Joining the roster of the best Games Like Hay Day is Family Farm Adventure. Created by Century Games, this game Blob Opera is more than just about farming. You'll also experience fun exploration and adventures. In this game , you'll assist Felicia as she restores her flower farm to push through the Flower Festival.
Unlike the usual farming games you've once known, you'll focus more on managing flowers and acquiring new ones instead of crops. It would help if you also cleared such areas with debris affected by the earthquake. In addition, you must plant some new flowers to generate income, which you'll use to restore your flower farm and upgrade it as well.
6. ZOMBIE CASTAWAYS
If you think zombies are only for survival games, you better think again, as they can also work out for farming games like in Zombie Castaways. In this game, the undead will not be eating your brains. Instead, you'll help them with their quest to become human for the sake of love.
You'll be controlling a zombie and helping him fulfill multiple goals to progress. You'll be working with him on a vast map and helping him unlock various areas. Take note that your zombie will not be alone, as some charming zombie helpers will assist him. Together with your aids, you'll be exploring Love Island and working with different quests.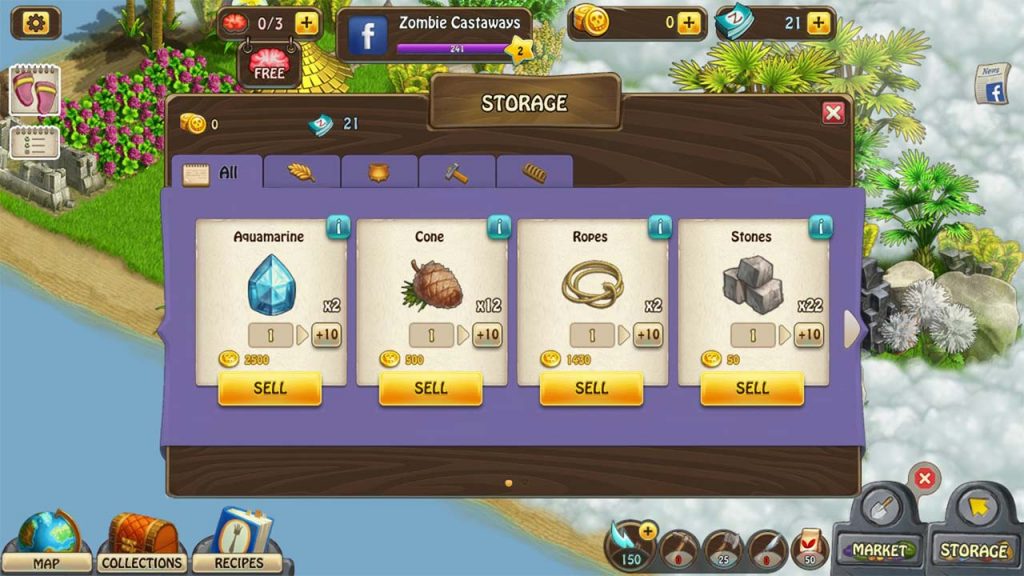 7. TOWN VILLAGE: FARM BUILD TRADE HARVEST CITY
Town Village by Sparking Society is another great game that should be on the list of games like Hay Day. This simple game has parts of both farming and making cities. You have to plant and collect different crops to make money that can be used to improve and decorate your city.
Once your city starts making more money, you can start to grow your farm to make more money and get access to more buildings like factories and huge structures. You can use the companies to make more things, which will help your city trade more and bring in more money.
8. RILAKKUMA FARM
Last, but definitely not least of the best games like Hay Day is Rilakkuma Farm by Imagineer Co. You'll surely love this game if you're familiar with the adorable bear called Rilakkuma. In this game, you'll play with the charming bear and his friends. You'll be helping them in managing the crops and transform them into delicious meals and sell them.
What's more exciting about Rilakkuma Farm is that you can unleash your imagination and creativity by decorating the garden using various ornaments. Aside from farming, your goal is also to make the farm a beautiful place to stay.
Download the Best Games Like Hay Day Now!
This concludes our list of the top games similar to Hay Day. You may use this list to locate the top substitute games with the same viewpoint as Hay Day. The good news is that all of the games on this list are free to play.